Das Whisky & Music Festival Zürich findet mit einer prall gefüllten Whisky-Ausstellerliste neu Ende November statt. Alle grossen Whiskyimporteure und -verkäufer der Schweiz sind vertreten, über 35 Aussteller und 3500 Whiskys gibt es zu verkosten. Beim Konzert Line Up gibt es internationale Top Bands zu bewundern. MegaTrad tourt weltweit und ist Gewinner des Best Newcomer Awards beim TradFest Dublin. Irish Folk Rock vom Feinsten bieten The Led Farmers. Greg Clifford, Andreas Winkler & Band und Brendan Wade ergänzen das Line-Up. The Pipes and Drums Zurich sorgen für traditionelle Dudelsackklänge. Ein weiteres Highlight sind die Spezial-Whiskyseminare mit Grössen aus der Whisky Branche. Serge Valentin hat sich für ein Whiskytasting angekündigt, weitere Grössen werden folgen.
Geniessen sie den Vorteil des vergünstigsten Ticketpreises von CHF 35.- im Vorverkauf über Eventfrog! An der Abendkasse CHF 39.- (Eintritt zur Whiskymesse inkl. Nosing-Glas, Zugang zu allen Konzerten, Achtung: Whisky-Degus nicht enthalten - werden an den jeweiligen Ständen bezahlt)
Event organiser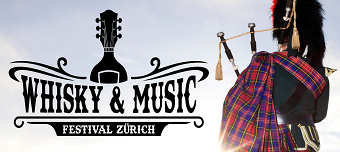 Verein Whisky & Music Festival Zürich
Tickets
Ticket sale online has ended since 25.11.2023 23:00.
Eintritt (inkl. Nosing-Glas) mit Zugang zu allen Konzerten
Prices incl. taxes
Whisky & Music Festival Zürich is organised by:


Verein Whisky & Music Festival Zürich